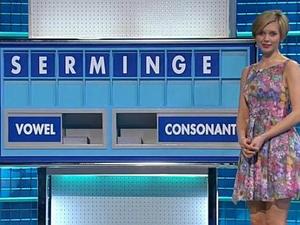 And we thought Carol Vorderman was a filthy sexbiscuit.
Reigning letter and number wench of Countdown Rachel Riley was left red faced this week when she systematically picked letters that spelled out 'Minge' in nice big capital letters, and all before 5pm.
Naturally saucy little Rachel 'Raunchy' Riley remained grounded, and disappointedly didn't even smirk, whilst new dull-as-dishwater host, Nick Hewer said nout to boot. Boring bastards. Bring back Richard Whitely, oh no…wait. Oops.
Anywho, as the Countdown music ticked on for 30 seconds, champion Suzi Purcell declared a seven letter word, 'Mingers', which garnered a bit of a laugh from the studio.
Honestly, who in this day and age watches Countdown. We thought it died with Whitely.
By Fanny Frangipane
@fannyfrangipane
Fancy Dress Hell; Man Turns Permanently Green…click HERE